Active License Management with KeyServer

Sassafras supplies an API that third party vendors use to build KeyServer support directly into their products.
A vendor builds a custom license (.lic) file that includes basic details (such as the enabled count for the Policy) while the KeyServer Administrator retains the ability to work with settings such as Scope, Pools, Schedules, Custom Messages, etc.
Incorporating a vendor .lic involves putting the file supplied by the vendor into the KeyServer Data Folder and restarting the ks process.
KeyServer then builds a Strict-Enforcement Manage Policy where the Concurrent use total (Entitlements value) was set by the vendor.
The picture below shows a simple example where licensing of Ableton Live Suite is being managed by KeyServer.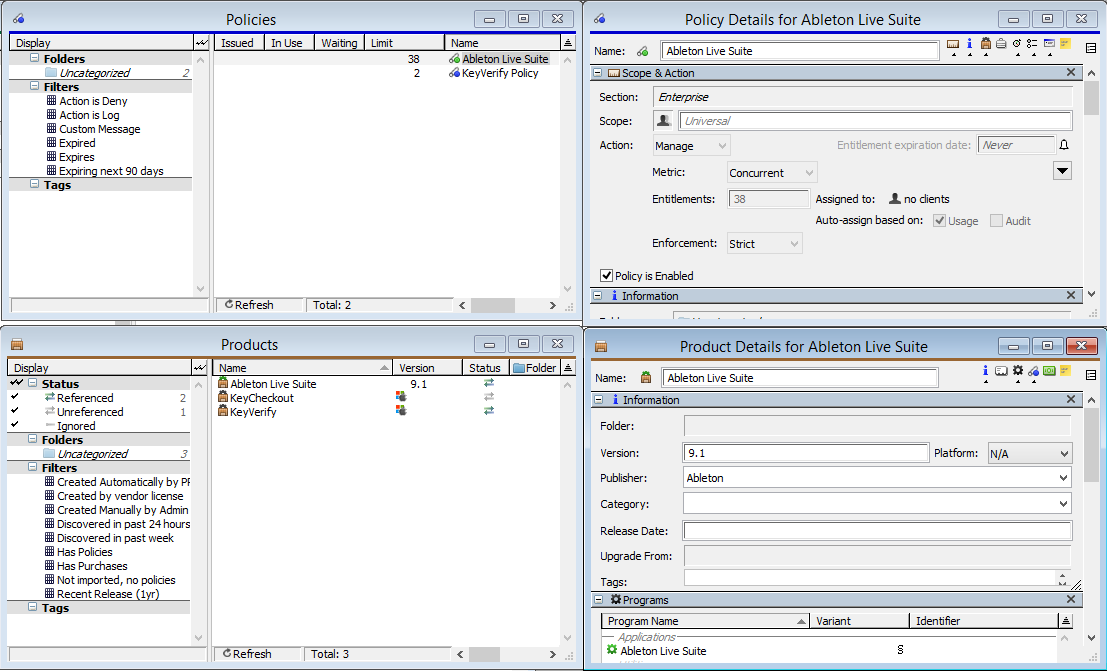 If the KeyServer has been purchased specifically to control a Vendor.lic-based Product, the steps required for setup are very simple:
1) Install KeyServer.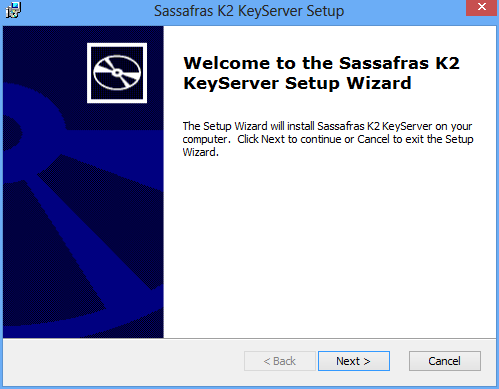 2) Copy both the server.lic file purchased from Sassafras and the .lic file obtained from the vendor into the KeyServer Data Folder.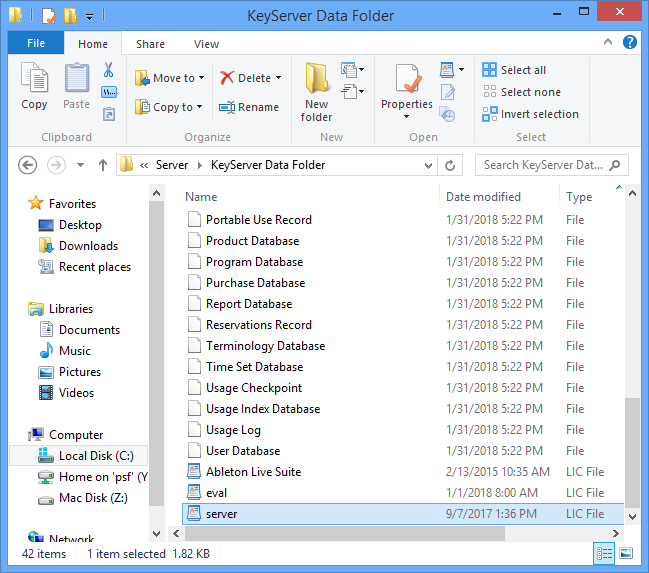 3) Restart the KeyServer process.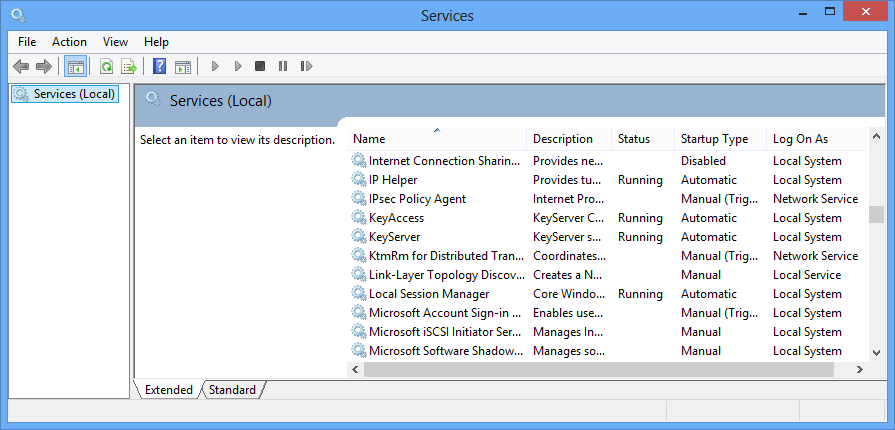 Once restarted, the KeyServer will control the third party product (e.g. Ableton Live Suite) on any client computers.
4) Open the newly created Policy object in KeyConfigure and apply any desired settings – in particular you might want to set a scope so that the license can only be used by members of a particular group.
No further configuration is required.
The Policy, Product and Program icons in the picture above each have a bright green aspect, indicating that those objects were created by a Vendor license. Items associated with the Sassafras-supplied KeyVerify Policy, and any additional policies created by a KeyServer Administrator are blue.
Notice that the Section and Scope fields of the Policy Details above are enabled, as these properties are configurable in the usual ways, even though the entitlement count is locked.
Usage or Audit Reporting at the Policy, Product or Program level can be done in the standard manner, but note that the Program Item associated with the Product has neither a variant number nor an Identifier.
The Product Object may have a version but this detail is at the discretion of the Vendor.
Any required activation information such as serial numbers or registration codes are supplied by the vendor along with the .lic file, access to installers, documentation, etc.
As a final note, in some rare cases a vendor may supply support libraries (.dll or .so files) or even a hardware key (dongle) along with their .lic(s). In those cases the vendors will also supply documentation on what to do with those additional items.
Questions about this should be directed to Sassafras Technical Support.