KeyServer, K2's award-winning software license management tool, has been described by our customers as "indispensable for software license management", "the most stable software" that they use, and "the benchmark" for evaluating all of their corporate software (more quotes…). We've been designing IT asset management solutions for over twenty years, and our customers tell us that our experience shows in the overall functionality and well-refined interface of K2.
Software Purchase and Entitlement Tracking
K2's Entitlement based purchase tracking provides instant details on current entitlement position and automated reconciliation for any software product in your system.
Traditional software asset management systems focus on compliance and limit themselves to counting physical inventory for reconciliation. K2 reaches beyond these physical limitations and provides entitlement metric-based reconciliation to give you insights into software cost reduction as well as discovery details for compliance.
Policy-driven Software Licensing
K2's unique policy-based license management has offered distinctive compliance and licensing optimization possibilities for many years, and continues to become richer than ever with each new major release.
Licensing administrators can define the "Scope" of influence of a policy-based license. Thus IT managers in organizations of any size can define unique licensing allocations, metrics, and use rights for each different division, department, operating unit, or cost center within their organization.
K2's License Policies may be configured to allocate and manage unlimited site licenses, node-locked "per-device" licenses, named user, concurrent-use, leased, Core, PVU, and custom licenses. This powerful combination of features cannot be found in any other license management tool.
Easy Configuration
K2 takes only a few minutes to install and begin collecting audit and usage data. You may use pre-loaded software product definitions or create additional product definitions to build license policies that will track – and optionally control or restrict – software usage and license compliance throughout your organization.
K2 will manage an unlimited number of application programs for use on desktop, thin client, virtual, and mobile computers. It will manage your global enterprise network or it can be restricted to specific company divisions and locations.
Integrated Audits and Usage
As software publishers have shown more interest in recent years in their customers' licensing practices, organizational requirements for effective software license compliance tools have increased. But while software vendors are concerned primarily with counting the number of installations, experienced software asset managers know that the true value is in usage. Thus, K2 integrates these two important data sets to give you the best of both worlds.
Efficient Management yields Cost Savings
It's easy to understand the value of compliance management in reducing corporate exposure to enforcement audits. Likewise, there are several other practical ways that your organization can benefit financially from using K2.
Reduced Software Licensing Costs
Gartner Group and other industry studies have shown that organizations that implement effective IT asset management practices will realize savings of between 5% and 35% of their IT budgets. Accurate software usage tracking with K2 will provide your organization with leverage for licensing negotiations.
Reduced IT Management Expense
Many of our customers, in agreement with industry studies, have pointed to significant management cost savings in staffing their IT departments when using K2 – KeyAuditor & KeyServer.
Loss-recovery and Redeployment
When computers are upgraded or retired, software assets can easily be lost or forgotten. K2 identifies unused software both from retired computers and from computers moved to different users or projects. K2 enables you to recover those valuable unused assets for re-deployment elsewhere.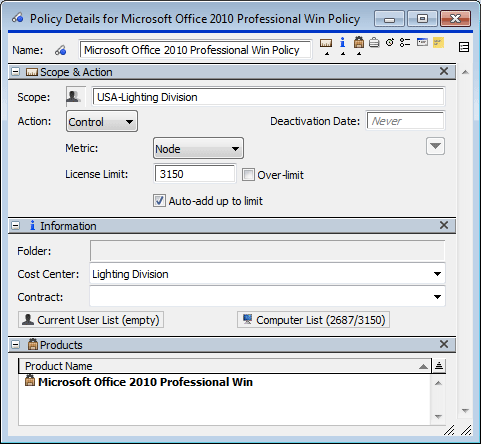 Flexible IT Management Styles
IT management requirements differ at corporate, government and educational sites. K2 can be custom-configured to accommodate the disciplines of any IT department.
Whatever your requirements, K2 can be integrated with other tools while it provides you with plenty of choices to run deployment audits, track inventory, enforce license compliance, or simply measure usage.
The broad acceptance of K2 across many different kinds of organizations demonstrates its depth and flexibility – you can be confident that K2 will continue to meet your requirements as they evolve.