KeyAuditor, K2's IT audit tool, automatically discovers and identifies tens of thousands of software applications and aligns them to software product definitions. KeyAuditor automatically updates its own software databases as it collects identifying details directly from the internal resource data of each audited application. Product definitions which aggregate programs can be imported from Sassafras or defined manually.
Accurate Inventory Data
Of the many processes used for software identification, the most trusted data source today continues to be the audited programs themselves. K2 uses the unique identifier data embedded in each executable along with selected Registry values for the most accurate audit possible. By avoiding over-dependence on the notoriously unreliable Add/Remove Programs values, K2 is able to deliver accurate audit data for the application executables that are actually installed. Time stamps for "last use" are also maintained directly by the K2 client without depending on the OS's often unreliable record.
Software Product Recognition
Using the Product Recognition Service, K2-KeyServer will automatically identify and download relevent product definitions. The Administrator can augment them by building additional product definitions, to enhance the accuracy and detail of K2's discovery process. The correct aggregation of programs in software products makes it easier to correlate purchase records, audits for installed software, and facilitates configuration of managed license policies. Sassafras maintains frequent updates to its Product Recognition catalog.
After Discovery, Take Action
KeyAuditor's powerful discovery and recognition tools report all programs, not just those which are already a part of known products. Program attributes and default and customizable filters can then be used to find programs which need product definitions. Defining new products is quick and easy and allows programs to be included in focused audit reports.
Integrated Usage Details
Some IT asset managers only require software inventory data with last usage times, while others wish to include complete software usage histories in detailed reports. K2 satisfies both requirements with seamless integration of inventory, usage tracking, and license compliance. When both KeyServer and KeyAuditor functions are active, K2 integrates licensing and usage data with inventory data to provide a comprehensive, reliable source of information that you need to make intelligent purchasing and deployment decisions.
Essential Hardware Auditing
In addition to K2's extensive software auditing and recognition capabilities, critical hardware information that is necessary for software deployment planning is also collected. K2 includes computer details like: manufacturer & model, operating system type, version & service pack, CPU type & clock-speed, RAM, disk space/free space, OEM & OS serial numbers, MAC address, and more. K2 also includes customizable fields for asset tag identification.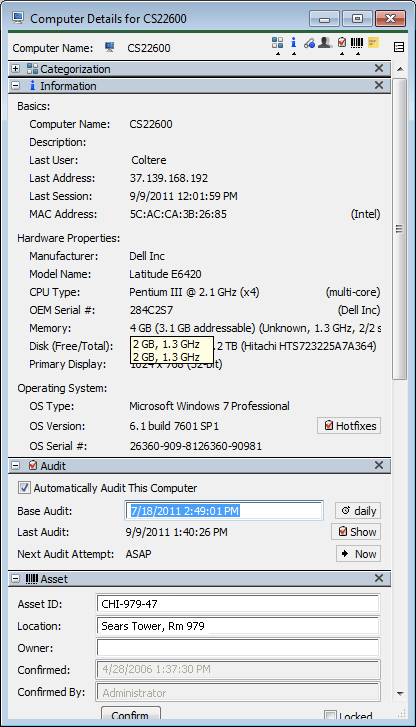 Inventory baselines may be set and compared over time for a history of changes in software deployment.
Software usage details are added to audit reports for a more complete picture of IT asset requirements.