Sassafras Launches Major Upgrade of KeyServer

We are excited to announce the release of KeyServer 7.6, which makes significant improvements to ease of configuration as well as reporting.
Over the years, KeyServer has been developed to suit the needs of software asset managers so that they can create accurate and diverse reports. As a result of over 20 years of development, KeyServer is an incredibly versatile and powerful tool for IT Asset Management, but it has also become a complicated task to fully configure and leverage all of KeyServer's functionality. Here at Sassafras Software, we have distinguished ourselves from products that while perhaps simple to use, offer only limited features, incomplete data collection, or superficial reporting. But we still think a little simplicity can go a long way. With our new release, we have put a singular focus on simplifying the most common configuration and reporting components, while not sacrificing any of the more advanced options.
There are a few brand new features as well, including a printer database that allows both for asset management and status/location information on availability maps. Watch this short introduction video to preview major new features and enhancements. Of course, if you're entirely new to KeyServer, or have questions, please contact us any time!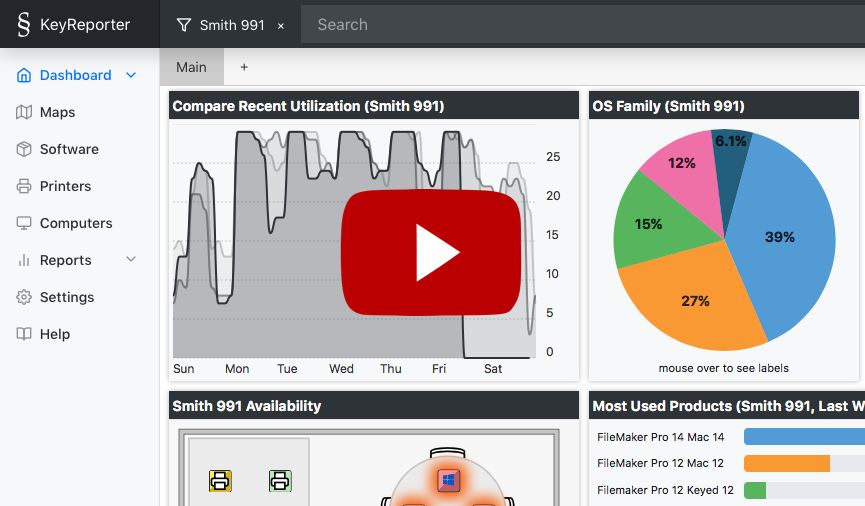 Our customers are really excited to get 7.6 up and running, and we can't wait to see what they do with it.
To recap the video, some of the new features in 7.6 include:
Product Families
Future-proof your usage tracking policies by adding the Product Family definition, ensuring that all versions of a selected product are fully monitored as soon as they're available.
Automatic Policies
Configuration of usage tracking is as simple as a single click.
Dynamic Dashboards
Select a Section or Division from a dropdown, and your custom dashboard instantly refreshes to present data for only the scoped locations.
One-Click Reports
Preconfigured, customizable report tiles allow you to run your favourite reports against your selected computer scope with a single click. No more fumbling though report menus to find the one you need!
Printers Database
Link with PaperCut™ or import printers and other hardware from a spreadsheet in order to provide live status information through a web portal.
Extended Web Dashboard
New Software and Computers pages in the KeyReporter web interface allow you to track and manage inventory, search for availability, or run reports for detailed, accurate usage information in any web browser.
Please join an upcoming webinar to see these features and more!
---
KeyServer's desktop and web-based interfaces provide user-friendly, comprehensive asset usage statistics for any size network, from small lab facilities with just a few dozen computers to global enterprises managing tens of thousands of computers across the world. In fact, one of the world's largest IT Consulting firms manages software compliance and optimization with KeyServer on their global estate of more than 200,000 computers.
Contact Sassafras to schedule a demo or obtain an evaluation license for this major new release.