KeyServer Fundamentals: Reporting Strategies and Objectives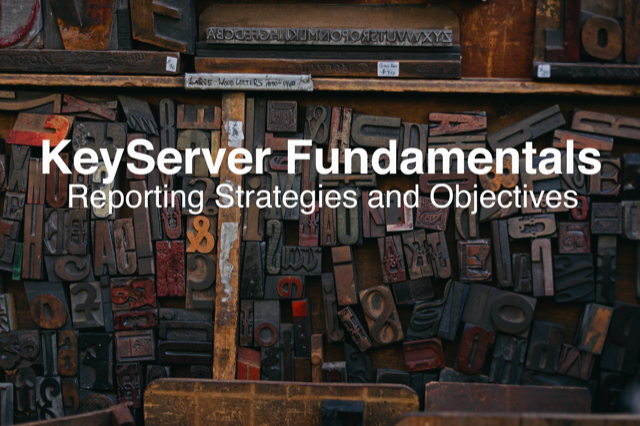 Two sessions available:
Wednesday, May 2nd
10AM EST (3PM UTC)
or
7PM EST (4PM PST, 9AM May 3rd AET)
If you watched or took part in our last two KeyServer Fundamentals webinars, by now you should have all the information you need to organize your computer network and manage your software products with properly configured polices. In the next webinar, Reporting Strategies and Objectives, we're going to talk about making use of the data you've been collecting.
If you're like many of our clients, your organization may have already decided to purchase a site license for Adobe Creative Cloud and/or Microsoft Office. And, while "giving in" and buying more than you really need for simplicity's sake might have made sense during the transition to subscription licensing, ubiquitous installation actually provides you with an opportunity to gain insight into an invaluable usage metric: who, based on actual usage and unlimited availability, really needs what?
Do you have faculty or students who "need" Adobe Illustrator, but haven't used anything other than Acrobat in the last 6 months? What about Microsoft Office Pro Plus users who use nothing but Word and Excel? Let's find out! Armed with this information you will be fully prepared for your next renewal negotiation. In addition to software usage reporting, we'll also talk about hardware reports, value tags, report templates, time sets, exporting reports, KeyReporter dashboard widgets, and other custom options.
Reporting Basics

Report Names ("So many options, how do I choose?!")
Reporting Acrobatics (Flip view, customize columns, "super custom" columns)
Report parameters, Time Sets
Value Tags

Hardware Reports

Hardware Attributes
Log in, Histogram
Duplicates

Software Reports

Audit vs Usage
Policy vs Product vs Program
Product optimizations
Compliance

KeyReporter

Dashboards, widgets
Report Builder
Archive, search
Please sign up below to receive an invitation with the meeting link.
Two sessions available:
Wednesday, May 2nd
10AM EST (3PM UTC)
or
7PM EST (4PM PST, 9AM May 3rd AET)
REGISTER NOW