Locating Legacy Internet Explorer installs with K2

Microsoft ended support for versions of Internet Explorer older than 11.x as of January 12, 2016. For security reasons, many organizations have a mandate to remove un-supported software and therefore need to find where that software is installed. K2 includes several reports that make it easy to locate the old product versions so that the appropriate remedial action can be taken.
The discussion below assumes a standard K2 configuration with an active subscription to the Product Recognition Service so audit information from all client computers will be available for analysis.
1. Find the relevant Product records in KeyConfigure's Products window.
Sort the Products window by name and look for Internet Explorer Win. In the case below, we see both versions 10 and 11.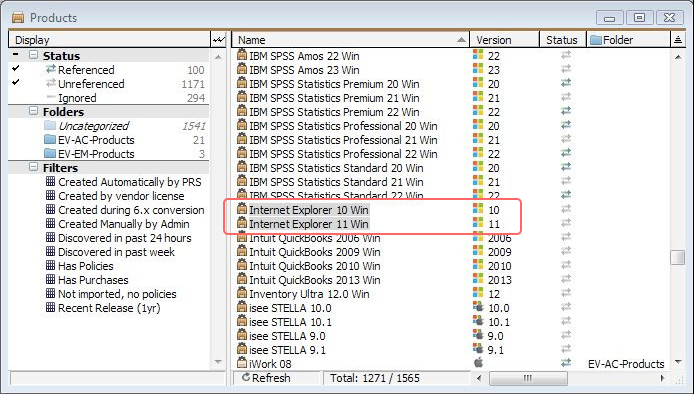 By default, Products with Status "Ignored" are not included in the Display:
2. Enable the checkmark for "Ignored" in addition to Referenced and Unreferenced, so now all records are displayed.
Typically you will now see some additional Internet Explorer versions. The Ignored icon in the Status column indicates that these Products will not be included in Audit reports. The specific product versions shown will vary depending on what's installed at your site.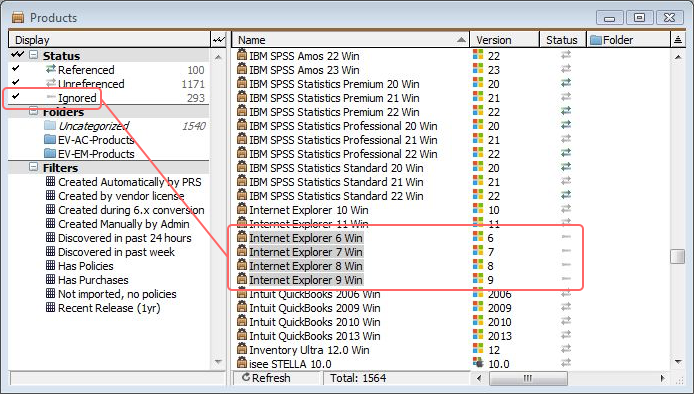 Before running an Audit report, we will have to change the Status of any Ignored Products that we are interested in:
3. Select all versions of Internet Explorer marked with Status "Ignored" and drag them onto "Unreferenced".
The status Unreferenced means K2 has no Purchases or Policies for these products, but they will be included in Audit reports – unless the product is no longer installed on any computer.
4. Select the versions of IE you want to report on (being sure to exclude Version 11), then right-click, and select "Audit (COMP x prod)".
The Report Builder window will open and its Target panel will show your selection of Products: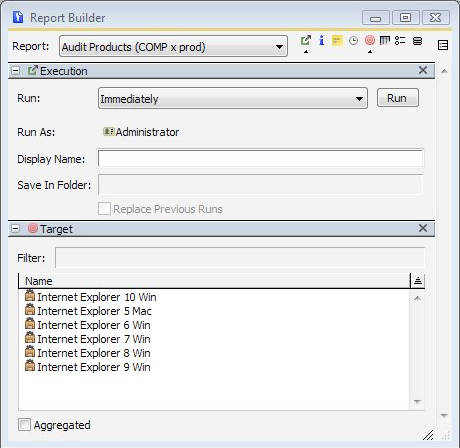 5. Press the Run button in the Report Builder window
Note that if you just made the configuration change (moving some products from Ignored to Unreferenced), you might see a message that the report will run after some optimizations have completed. Then the report might take a bit longer than usual to complete.
The completed report will list all Computers where at least one of the selected Internet Explorer versions is installed: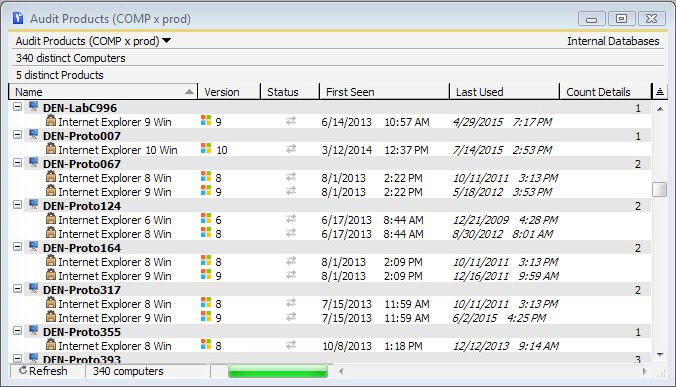 In the example above, the first computer has Version 9, and the next has Version 10. There are also some computers that have multiple versions. Perhaps older installs were left in place by an incomplete uninstall or update. Older versions may also have been missed by some reporting and management tools that only look at Add/Remove Programs, or which only look in the standard install locations.
Right-click on the report window and select Collapse All. This gives you a list of computers with outdated versions of IE. Supply this report to your deployment team so they can remove all non-11.x versions of IE from these machines. You can save the report from the File menu in various formats including .txt or .xml (for Excel).
———–
One final note.
K2's web interface gives you an easy way to watch how the project of cleaning out old Explorer versions is progressing. Assuming that Ignored product versions of Explorer have been changed to Unreferenced as described above, we can count on K2 having all relevant product details courtesy of the Product Recognition Service. Then with a browser connection to KeyReporter, you can set up a widget that focuses on what fraction of computers have various program versions installed: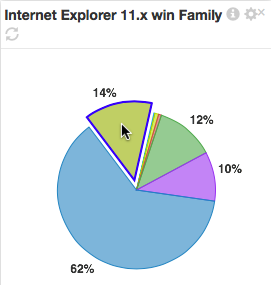 Here we see that only 14% of the computers already have version 11 installed. Hovering on other segments will expose their version number – the 62% slice is for computers with version 10. As the cleanup project proceeds, you should see the yellow pie chart segment for version 11 grow until it covers the whole pie. Of course updates to this view will depend on the refresh frequency configured for client incremental Audits. The default is 4 weeks, but you can change this and/or request immediate audit updates using KeyConfigure.
From the pie chart, we can also view a report that is similar to the "Audit (COMP x prod) described above. Clicking on the chart will run the Audit (PRGM x comp) Report. To view it as a list of Computers you must flip the grouping using the Views drop-down menu.