ITAM Lifetime Achievements

On November 10, I traveled to Maidenhead, England to attend the annual ITAM Review Awards Banquet and present a Lifetime Achievement Award to a surprised colleague, David Bicket. David recently volunteered his time for 7 years to lead a distinguished group of Software Asset Management and IT Asset Management (SAM/ITAM) savants in developing a remarkable set of industry standards.
It was a fitting journey for me to take in my last month as VP of Business Development at Sassafras Software. While closing a chapter on a long and rewarding career at Sassafras I was also opening new pathways with a growing community of supporters who will help to launch me into my next big thing. More on that later.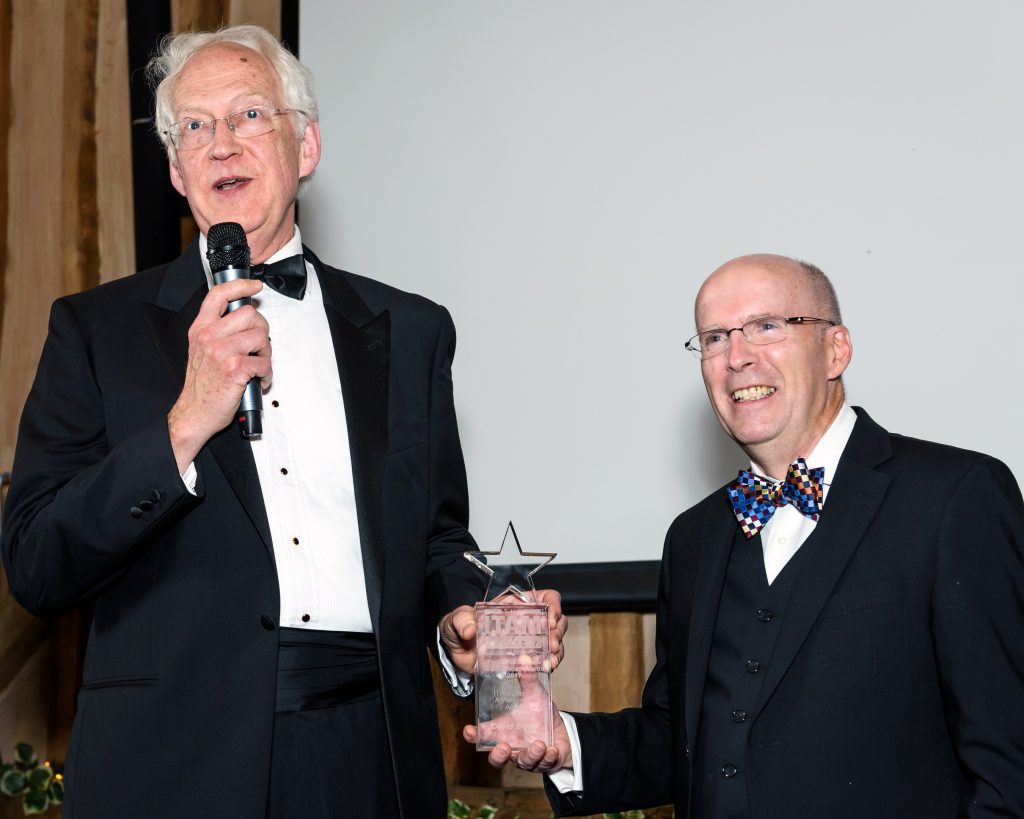 David Bicket spent thirteen relatively tranquil years as a Manager and then a Director of Enterprise Risk Services at Deloitte Belgium. And then, as he puts it, he began the task of "herding some very rowdy cats" when he accepted the nomination as Convener of the International Organization for Standards "Working Group 21." The ISO WG21 group is responsible for building and maintaining SAM and ITAM standards.
I joined WG21 the following year and was immediately appointed as Convener of the ISO/IEC 19770-3 Development Group, where I served as lead author of the 19770-3 Software Entitlements standard – and continue to serve alongside Dave and many other colleagues.
These have been remarkable years, under Mr. Bicket's leadership, for the development of ITAM standards and the maturing of a rapidly expanding profession. As Steve Klos of TagVault.org said:
We now have a full set of standards… that we can use in the industry to make it a better place.
Congratulations Dave! It has been a joy to serve alongside of you.
That brings me back to my story. After 26 remarkably successful years as a team member, building one of the notable pioneering companies in the SAM/ITAM industry, I am changing my life-focus to pursue a growing need in the world. I plan to stay active, part-time, in the ITAM industry in a few ways; through standards development, writing, teaching, speaking at conferences, and general rabble-rousing whenever the opportunity presents itself.
But my main interest is in increasing my direct efforts in Parkinson's research and in educating the Parkinson's community throughout North America and the United Kingdom on ways we can beat back the disease and improve the quality of our lives.
Some of you know of my volunteer work with the Parkinson's Foundation as a Research Advocate. I will continue that work while I make efforts to spawn "Dance for Parkinson's" programs modeled after the 2-year program that I currently co-instruct. And I am presently working with a team of Neurologists and scientists to develop a new exercise study for Parkinson's that I will work on as a co-investigator.
I am also presently developing a project plan to take my bicycle on the road in 2018 to hosted events around the USA (and possibly the UK) where I will team up with Neurologists and cycling communities to teach people with Parkinson's how they can overcome many of their struggles with PD through cycling/spinning – and to raise money for research through the Parkinson's Foundation.
If you have suggestions for candidate communities that might host me for a Parkinson's educational and research fund-raising event, please let me know.
If you would like to follow my future endeavors – both in the ITAM world and in Parkinson's projects – you may connect with me on Linkedin or on Twitter.
I look forward to seeing many of you at the 2018 IAITAM ACE in Orlando.