COVID-19 Response: Facilitate Remote Access using KeyReporter
At no additional cost, KeyReporter can now easily provide remote access links for Mac, PC, and Linux machines to students and faculty working from home. The feedback has been tremendous:
I just want to say thank you for the tremendous effort you are doing to help us to get our users connected remotely to our labs. This feature has been enabled and our students and faculty are amazed using it.
– Jaime L. Mejia-Paula
Wheaton College
The list view of labs and classrooms (which can be linked to Active Directory) shows users the number of computers available in each location. The search bar at the top allows them to locate specific software titles, updating the count to present the number of available machines that have the requested software.
Click a location, and you are presented with a list of computers. Select a computer for a list of installed software, normalized automatically by our cloud-based Product Recognition Service. Available computers are displayed with a green icon, and include a link to download an easily customizable RDP or VNC file (or simply display the IP address for quick copy/paste).
A remote connection dialog allows administrators to easily configure each computer group as needed for your unique environment.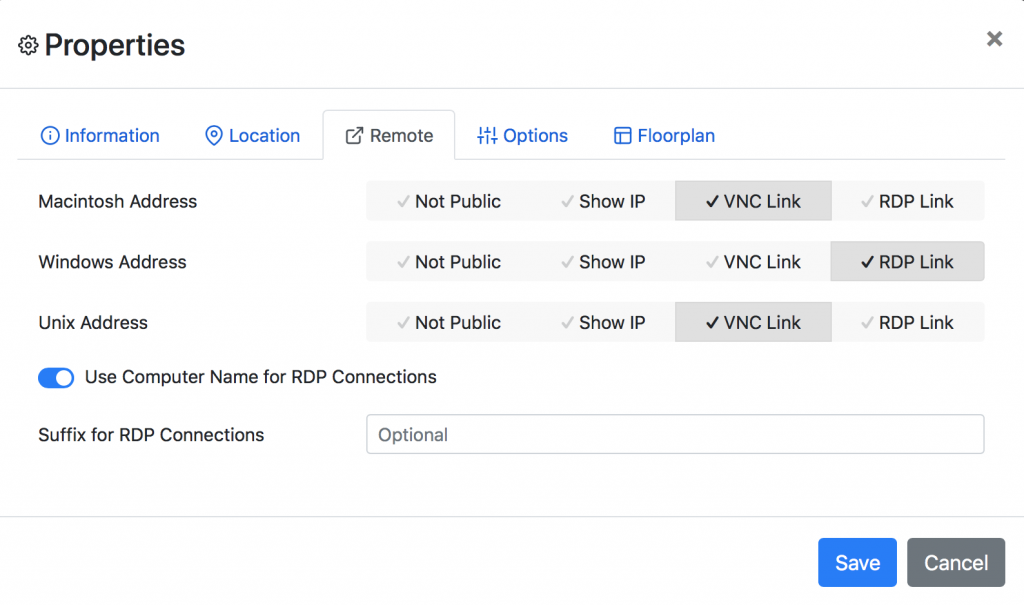 In addition to typing the name of a software product in the search bar at the top of the map, an automatically generated Software page, organized by category or by publisher, allows users to quickly browse to find the programs they need. Clicking on a product name takes you to the maps, highlighting the places the software can be found.
This feature has really inspired IT Managers here, and will prove a real benefit for students who need access to more powerful computers or certain software, so huge thanks to you and the whole Sassafras team.
The best part about these features is that they can be implemented within minutes. Just add each Division (or tag-based computer group) with the + icon, select your RDP/VNC options in the Properties window (gear icon), and check the publish box to make each division viewable to the guest account.
These steps represent the bare minimum necessary to build out the Maps page so that users can locate available computers and software. There are many additional options to customize these features for your environment, like changing the RDP template to access computers through gateway/firewall, or hiding this functionality behind AD Authentication, so that only students with credentials can access computer lists.
Once the Maps page has been set up, and you are ready share the data with end users, you can also embed any page or object in KeyReporter onto any other website, using the instructions outlined here.
Because we are constantly improving and releasing new enhancements, the above information may be different than what you see when you log into your KeyServer. If you have any questions or would like assistance, just reach out to us at support@sassafras.com, or email me directly at jasons@sassafras.com, and we'll be happy to help. Thanks!