K2 includes a purchase database which is used not only for recording purchase histories, but also for computing an up to date summary of current entitlements. When original purchases, upgrade purchases, expiring entitlements, and upgrade plans are accurately recorded, KeyConfigure will calculate a "bottom line" summary showing how many of the purchased entitlements for each product version are currently valid. Purchase information can then be reconciled against license management policies.
Detailed purchase records
Purchase records have fields where all aspects of a purchase are encoded. Basic fields include PO #, Invoice, and Manufacturer SKU. Financial fields include MSRP, Extended Cost, Currency, and Converted Cost. Most importantly for IT Asset Management, aspects of the software entitlement are recorded such as metric, expiration date, and upgrade coverage.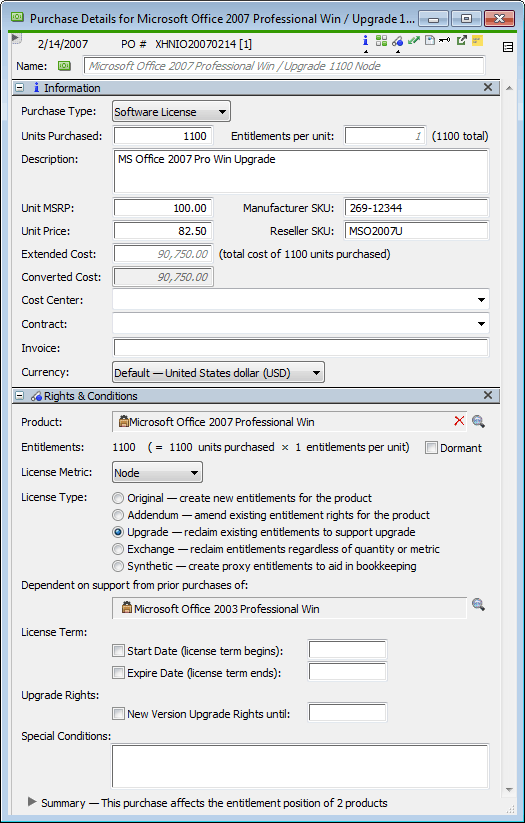 Flexible permissions for multiple roles
Role based permissions in KeyServer version 7 allow easy assignment of different management responsibilites to different Administrators. One set of Administrators might only enter and report on purchases without any visibility into license management policies. Another set of Administrators might have permissions for both Purchases and Policies.
Link to other Databases
Purchase records in K2 contain multiple fields which can be used to store External IDs for linking KeyServer data to data from other Databases and Systems. K2 includes an ODBC driver to allow direct access to KeyServer Data including purchases.
One click interface for common configuration
Once a purchase has been entered, KeyConfigure will identify further configuration which must be done in order to support or use a purchase. For example, a second purchase of a product which has already been purchased allows more copies of that product to be managed. Once the basic properties of the additional purchase have been entered, KeyConfigure will suggest increasing the count of an existing license policy.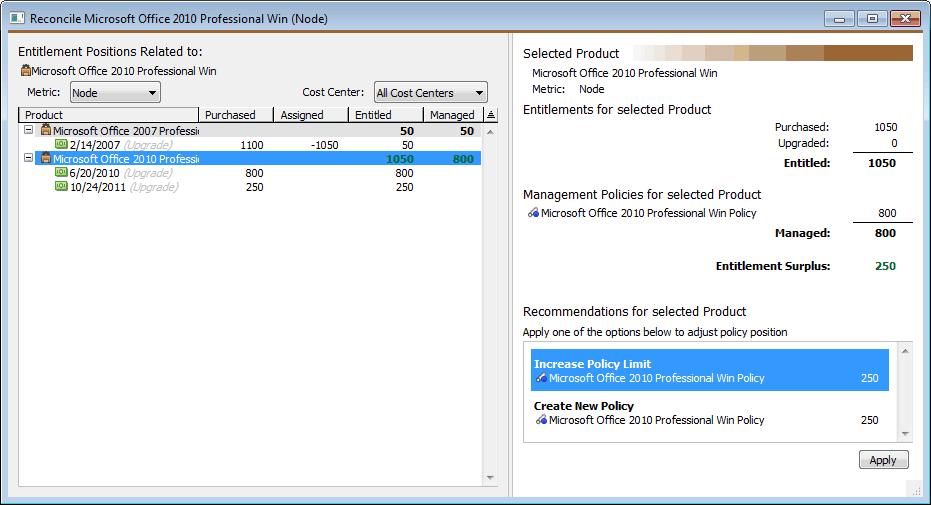 Reconcile globally or within cost centers
One of the main benefits of recording purchases is to be able to know at any point in time how many licenses are entitled for a product. For a single perpetual purchase, the answer is clear, but with multiple purchases, subscriptions, subsequent upgrades, the active count is hard to keep track of without a system like K2. This entitled count can then reconciled against the managed count for the product, in order to understand whether you are controlling the same count of products which you purchased. Reconciliation can be done globally, or a single cost center can be specified and reconciliation will count purchases and policies within just that cost center.