New Adobe & Microsoft Product Definitions

We have recently added several new product definitions to PRS. As usual, they will automatically be added to your Products window whenever your KeyServer has discovered a similar footprint on your site. Definitions for Adobe Captivate 8, Creative Cloud 2014 as well as various specific editions of Microsoft Visual Studio are included.
Captivate 8
Captivate 8 from Adobe is a recent upgrade version. Since PRS includes product definitions for earlier versions of Captivate, we have now added an Automatic definition for version 8. The dashboard in K2 version 7.2 makes it easy to notice this new product definition. If you have a policy for Captivate 7 MLP and an instance of version 8 is discovered at your site but is not managed by any policy, the Upgraded Products widget in the Dashboard will alert you like this: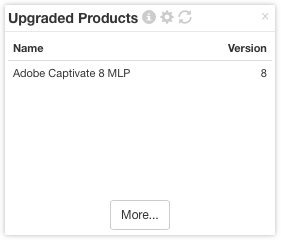 Since you are controlling version 7, the widget is making you aware of a new product that you will probably want to control, either by reconfiguring the existing Captivate policy or by creating a new policy for this new version (depending on your specific licensing terms and management goals).
There is a similar widget called Upgraded Programs. It shows programs that may need to be added to a product definition. So if you looked at this widget after Captivate 8 was discovered at your organization but before its Automatic product definition was added to PRS, you would see this: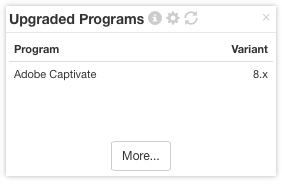 Now lets assume that you noticed the discovery of Captivate 8 on your site or you attempted to enter a some purchasing information for this new product that had not yet been defined in PRS. Using the New Product Wizard, you would have made your own manual product definition in order to proceed with entering the purchase and policy data. But now that there's an Automatic definition, typically you should replace your manual definition with the "official" one, the Automatic definition from PRS. There is a report in KeyConfigure to identify this situation – Product Suggestions (PROD). Running it in this case would show something like this: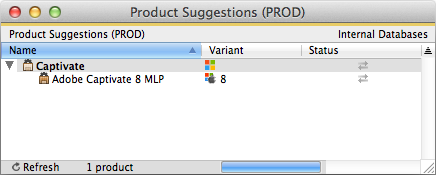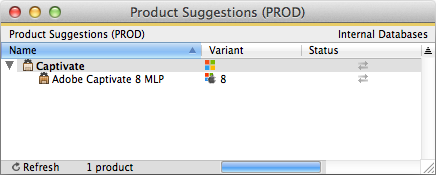 Because they have something in common, the manual product is displayed with the standard product from PRS underneath it. Whenever you run this report you should always look at the product details to understand exactly which programs are in each product, because they may not match up precisely between the two products. If you are satisfied that both product definitions are for the same product, you can select them both, right-click, and select "Replace Product References…" as below: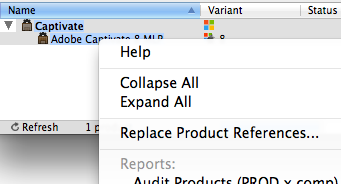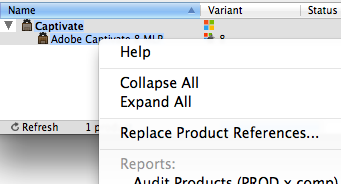 This will take you to the Replace Product References Wizard which will change all Purchases and Policies for the manual product so they instead refer to the Automatic product. The first screen of this wizard is shown below – refer to the documentation link for more information.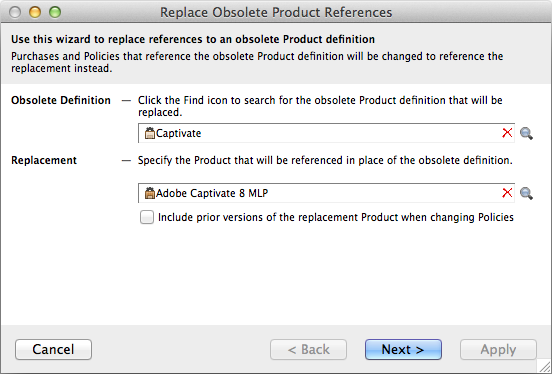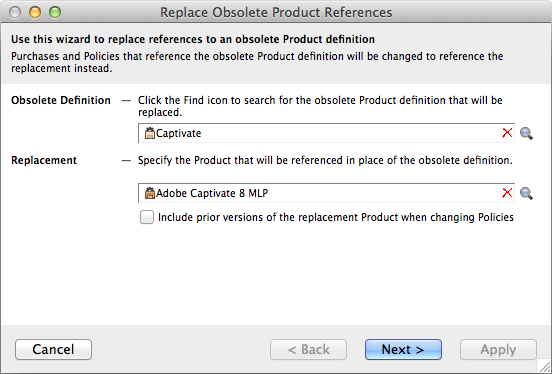 Creative Cloud
Originally, Creative Cloud was a purchasing option for the Creative Suite 6, made available in 2013 for certain markets. With the next major revision of the various suite programs, instead of marketing the product bundle as Creative Suite 7, it was simply called Creative Cloud – and subscription licensing became the only purchase option. At that point, we already had a definition for Creative Cloud that included the CS6 versions of the programs. Since Adobe still called the new release Creative Cloud, with no indication of which exact version, we added the new program versions to the existing definition. This also made some sense because as long as your subscription was active, you simply had access to either version of the software.
This year, Adobe has called the product Creative Cloud 2014. We have mirrored this official naming by making a new definition for a product called Creative Cloud 2014. It includes only the 2014 program versions. This new product definition makes it easier to see which version is actually installed and being used. To distinguish the older versions from the new Creative Cloud 2014, we have also made a definition for Creative Cloud 2013. Again this allows more explicit results in Audit Products reports. It also means you can easily create a policy for just 2013, while keeping the management of the older CS6 versions separate (regardless of what the purchasing option was used for the older version).
Since we defined the new "Adobe Creative Cloud 2014" product as an upgrade to the newly added definition "Adobe Creative Cloud 2013", you won't see the product for 2014 appear in the Upgraded Products widget. However, you will see "Adobe Creative Cloud 2014" appear in Audit Product reports whenever this latest version has been discovered on your audited computers.
There is one more change to the way PRS tracks older Adobe products.The old "Adobe Creative Cloud" product definition in PRS has been renamed to "Adobe Creative Cloud CS6 + 2013" to reflect which program versions are part of the product. Once the new product definitions have been imported, you may notice that Audit Products reports show you "Adobe Creative Cloud 2013" for computers where they used to show "Adobe Creative Cloud".
This could also have the effect of changing data displayed in the Product Compliance, Estimated Liability, and Estimated Overspend widgets. If you already have a policy defined for the old product definition, you might want to drag the new Adobe Creative Cloud 2013 product onto Ignored in the Products window of KeyConfigure, which would remove it from consideration for the Audit Products reports. Alternatively you might find it cleaner to change your Policy to refer to the Adobe Creative Cloud 2013 product instead of the old product that also contained CS6 program versions.
Visual Studio
KeyAccess 7.2.0.0 can now distinguish different editions of Visual Studio. Product Definitions have recently been added to PRS for each specific Visual Studio edition, but client computers must be running KeyAccess 7.2.0.0 or better in order to distinguish them. Until recently, PRS provided only a single definitions for Visual Studio with the name "Professional Edition". Older KeyAccess versions will still report on this catch-all version, but now it has been renamed as "Visual Studio All Editions". It includes all of the new programs that are distinguished by a 7.2 KeyAccess.
Finally, we have added some definitions for "Unknown Edition", which only include the generic program entry that will be reported by pre-7.2 KeyAccess.
If your KeyServer has a policy for one of the products that are now named "All Editions" you might want to change the policy to control a specific edition, since will probably reflect more accurately your purchased entitlement. For example if you have purchased Professional Edition you could set up a policy to control just that edition. But if you have a mix of KeyAccess 7.1.x and 7.2.x clients, you might want to add the appropriate version of the "Unknown Edition" to the policy as well.