2018-10-22 Image Released

The October 22 image has been released, which includes version 7.5.0.5 of all K2 components.
This release fixes a bug where KeyAccess running in RDS can use high CPU, a bug where some process running in VMware View are not tracked, changes how Products are categorized in the main window, and adds a QR code feature to Maps in KeyReporter, as well as many other minor fixes and improvements.
For a list of all changes and bug fixes, visit the Release History.
The change in Product Status is worth explaining, since this is a fairly noticeable change. Prior to the 7.5.0.5 release, the three categories were Referenced, Unreferenced, and Ignored. In 7.5.0.5 and later, the categories are Discovered, Related, and Ignored. Note that both KeyServer and KeyConfigure should be running 7.5.0.5 or better to see the new Status behavior as described below.
The Ignored Status remains unchanged. Ignored products have no Policy, so Usage is not being gathered – and further the Ignored products are explicitly removed from any Audit reports. By default, a number of shareware/freeware products are set to Ignored – most notably, any browsers that are defined. But you can always choose to remove products from Audit reports – as long as they don't have Policies or Purchases, just drag them to Ignored.
Besides Ignored products, in earlier versions other products were either Referenced or Unreferenced. Referenced simply meant that the Product had a Purchase and/or a Policy. Unreferenced meant it had neither Purchase nor Policy. What we found was that while KeyServer admins were certainly interested in Products that had Policies, they were also interested in ones that did not yet have Policies but were installed on computers. Such Products had a Status of Unreferenced, but so did many other products. For example, if all computers have CC complete installed, the Products window will have a definition for CC Complete, but also definitions for all of the related "Point Products" – e.g. Acrobat Pro, Photoshop, Illustrator, etc. The reason these products get imported is to allow optimization reporting, specifically a report that shows a computer with CC Complete installed, yet which is only using Acrobat. To see this report, run "Product Optimizations (COMP x prod)" under the "Audits" category. Still, the result was a very long list in Unreferenced, some of which were more interesting (actually installed somewhere) than others.
So in 7.5.0.5, the non-Ignored categories are Discovered and Related. Discovered includes anything with a Policy, as well as any product that is installed somewhere – i.e. appears in the Audit Products report. The result is that the Discovered Status is a much narrower indication of what you really care about. Specifically, comparing the old "Referenced" to the new "Discovered", Discovered now includes products that are installed somewhere even if they don't have a Policy or Purchase. It does not include products that are not installed anywhere, and have only a Purchase but no Policy (which would have been in the old Referenced).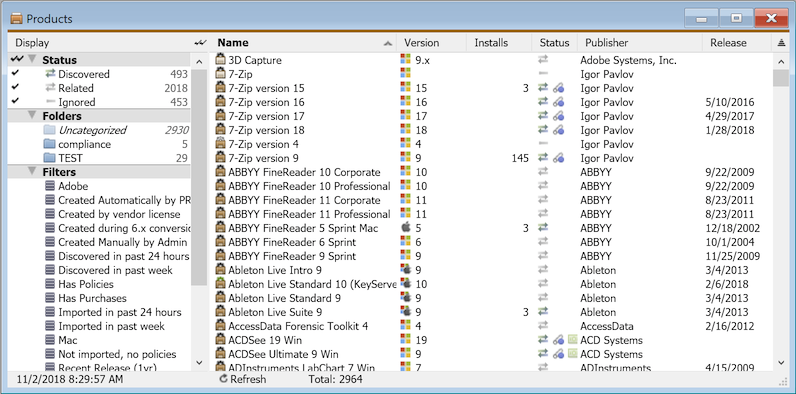 Along with these new categories, the data available for each Product in the Products window has been expanded. The Status column now includes the Discovered/Related/Ignored icon, but also indicates whether there are Policies and Purchases. Also, there are new optional columns that can be viewed – Installs, Policies, and Purchases. Each of these columns gives a count. So for example if you add the Installs column, you can sort by it to see which Products are installed on the most computers.
In short, we think that "Discovered" will now give you the view many have been asking for. Referenced and Unreferenced can now be viewed by making filters.